11 Key Terms You Must Know Before Copying Signals From Telegram To MT4
These are the basic key terms you should be fully aware of before you tap into the world of copying signals from telegram to the MT4 platform.
As we all know, learning a new language starts with the alphabet, Forex does as well.
Forex has its own language and without it, you can not understand its matrix. But, It is comprehensible that you are yearning to starts your forex business and get everything going right away.
This article is all you need to familiarize yourself with some main key terms of copying signals from telegram to MT4 and get your forex business going.
It is necessary to highlight that it is fine not to memorizing each term or even understanding them right away. This practical article is something you can regularly get back to. Also, there is a load of practical information within this article and so you might find it good to print it.
As a beginner who wants to tap into the forex world, you might subscribe to a Telegram forex channel for copying telegram signals to your MT4. To know which telegram forex channel performs better, use the TELEGRAMFXBACKTEST tool. This tool allows you to analyze the performance of your selected channel in the last three or six months.
As a beginner, it might be very hard for you to understand those telegram signals. But, do not worry we got you covered in this article. On the other hand, if you choose the forex business model as a side hustle, and you do not focus on it 100% as it should be. You should consider using Telegramfxcopier.
Telegramfxcopier is a forex trade copier that uses complicated algorithms to analyze any form of messages be it text or image from any Telegram forex channels and execute the signals directly to METATRADER platforms (MT4 and MT5).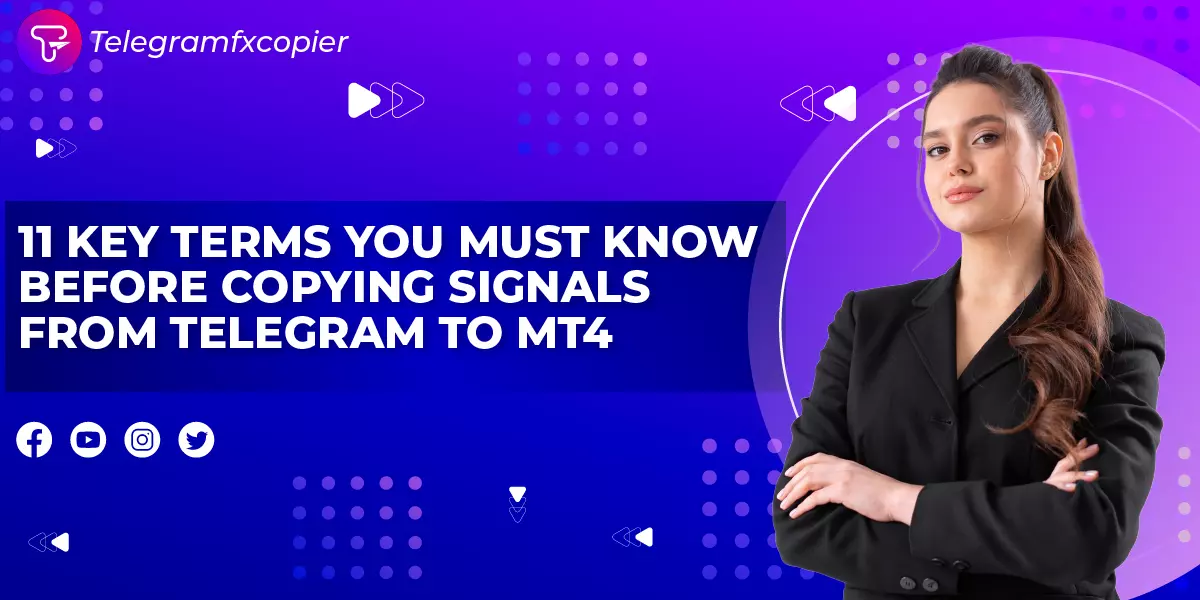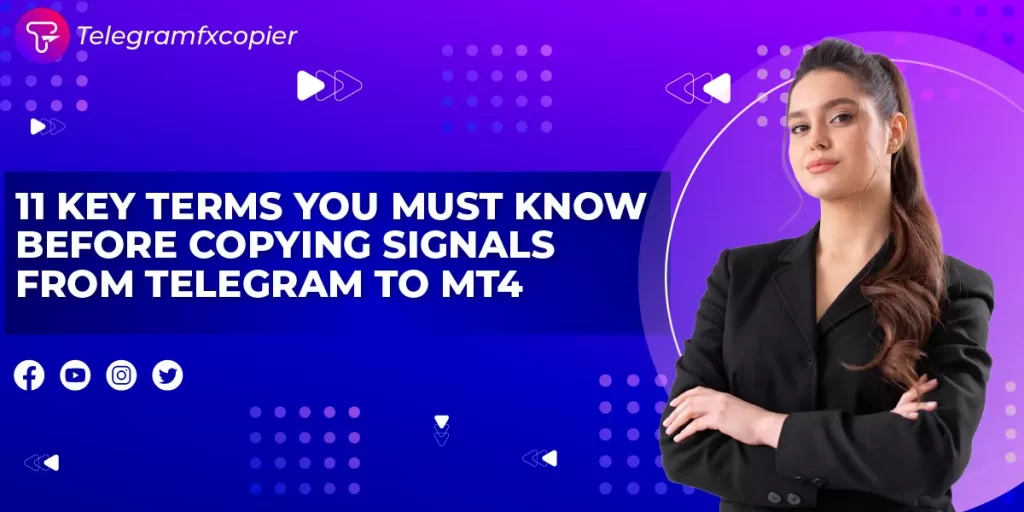 Key Terms of Copying Signals From Telegram To MT4
Sell Signal:
It is a telegram to MT4 signal that alerts a trader to sell an asset. This signal typically based on technical analysis. Telegram to MT4 sell signal can be automated, like with a stop-loss order. Plus, the sell signal may only alert the trader to sell, and then they implement the sell order manually.
Buy Signal:
This telegram to MT4 signal stands for an event chosen by a trader. It is an alert for setting foot on a purchase order for a precise investment. Telegram to MT4 buy signal can be perceived either by analyzing chart patterns or automated by a trading system. Learn more here.
Stop Loss SL:
This telegram to MT4 signal indicates that you should exit a specific trade. SL planned to save your investment. Stop-loss signal notifies you to exit a trade before any loss begins to take place in your investment by using a preset price.
Take Profit TP:
Simply, it refers to the opposite of the Stop Loss signal. This telegram to MT4 signal pushes you to take profit as soon as the profit reaches a specific level.
Buy Stop:
A BUY STOP signal stands for an alert to purchase a currency pair at the market price once it reaches your specified price. The buying price needs to be higher than the current market price.
Sell Stop:
To put it simply, It is a Telegram to MT4 forex signal that means to sell at the best possible price once the price has dropped below a specified price.
Buy Limit:
A BUY LIMIT forex signal is a signal to purchase an asset at a specified or occasionally lower price. This telegram to MT4 signal is allowing traders to take control of how much they want to pay. In case the asset does not reach the specified price, the signal will not be filled and the trader may miss the opportunity.
Sell Limit:
The SELL LIMIT signal is the opposite of the BUY LIMIT signal. That is to say, a SELL LIMIT signal is an order to sell an asset at the market price once the market reaches your specified price or higher.
Close Orders:
A close order signal refers to that the trade executed at the close of the market or the nearest close time as possible. Telegram to MT4 close order signal is one in which the broker or the exchange directed to ensure that an order is only filled at that given time of the trading day.
Close Half Orders:
A close half order means the same as a close order except for the fact that in close orders you close the whole position. But in Close half orders, you only close a half or a part of the position.
Moving SL To Entry price:
This signal simply refers to moving your stop loss to the same price as your trade entry-level. If you stopped, there is no way you will lose any money except for the spread and commission. Honestly, Some traders like to add this to the trade entry level too. Learn more.
Now, how to copy signals from Telegram to MT4?
Now you are fully aware of the key terms of copying a telegram signal to MT4. But the question is how?. You have two options for copying a telegram signal from your forex provider to your MT4. The first one is to read and understand the telegram signals and execute them to your MT4. The second one is to use automated software to do the work for you.
NOW you know all these fundamental terms of copying signals from telegram to MT4. As a piece of advice, you need to surround yourself with people who share the same passion as you do. For that specific reason, we invite you to join our community that contains both beginner and professional traders to share your thoughts and issues with.
Subscribe to our Newsletter
and get updated content from us
Please note that sending this form you give your agreement with our privacy policy