Discover a complete solutions with amazing options
Immediate Execution
Signals are executed right from Telegram channels in less than 5 seconds. No matter what signal format, be it an image or a different language, our Telegram copier will directly copy it from Telegram to MT4 or MT5 platforms.
Trade All Kinds Of Assets
Trade FX, Indexes, Commodities. Our EA parses also reply messages from telegram channels to execute directly close orders, move SL, set to breakeven… directly to your MT4.
Entry Price At Market Or Provider
You can follow the entry price of your signal Provider, in this case, the EA will execute pending orders. Or simply execute Telegram forex signals directly at the Market price when the provider sends the signals.
Money Management
You can set your money management strategy from our EA settings. You will be able to choose a fixed lot or a percentage of the risk per trade. Our Telegram signals to MT4 copy signals also with multiple TPs. The lot size can be split easily between every order with a different TP.
Risk Management
Duplicate it from providers or set it yourself: TP & SL, Trailing SL, and custom Breakeven. You will be able to set your custom SL & TP to avoid the risk of the signal provider just send the signal without SL and TPs. Also, you can set a Trailing SL and close for each step a percentage of profit. Custom Breakeven is an ideal option for signals with one TPs.
Automatic Move SL
Our EA contains several advanced options, including automatic trailing when multiple TPs. When our Telegram to MT4 copier executes signals with TPs, it moves SL to breakeven when the first TP hits, and continues to move the SL to the first TP when the second TP hits… Also, Our Telegram copier executes messages from signal providers like move SL to breakeven, move SL at @…
Symbol Exceptions
You can choose not to trade a specific pair from telegram channels, or set a custom lot size for a pair. So, if you want not to trade all pairs with EUR, you will be able to enter just EUR in the Symbol Exception option in the EA settings.
Percentage Of TPs Lot Size
You can specify the percentage of total lot size for each TPs to control your risk and maximize profit. So, if your signal provider sends a signal with 3 TPs, The EA will split the Total lot size depending on the parameters in the EA settings.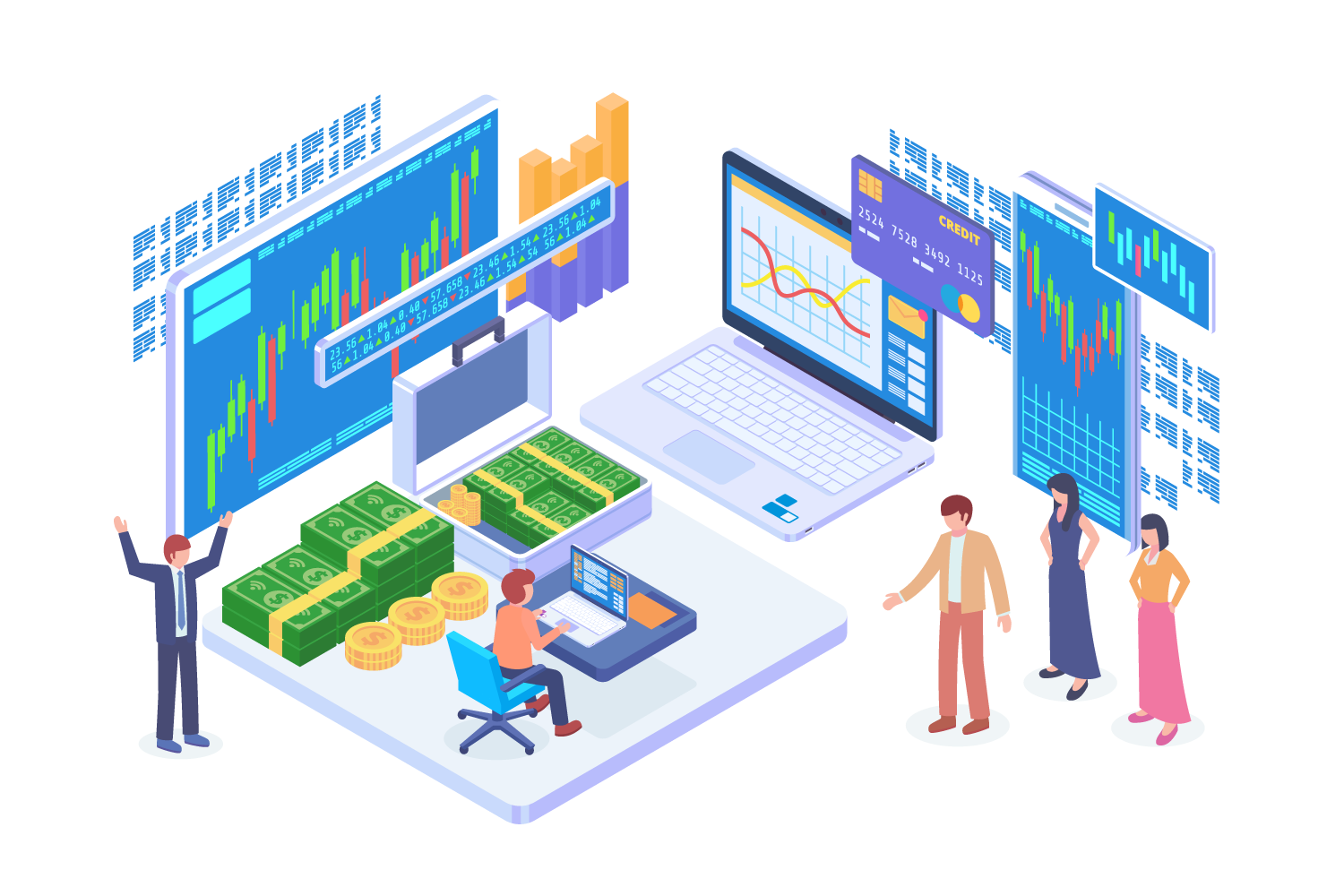 All Formats are Supported
TelegramFxCopier has an effective performance by copying trading signals from Forex signals Telegram channels or groups.
Telegram Forex Copier reads smartly all the formats of Telegram messages, including text, images, captions, etc. Also, it replies to messages for the sake of executing a modification of orders.
So, the Telegram copier takes trading signals from all these formats and executes them into MT4 or MT5 platforms. For this reason, TelegramFxCopier is considered to be the best trade copier MT5 in the trading industry.
Cancel anytime • Live chat support • Impressive Results
Professional Analytics panel
The analytics panel feature is what we are most proud of. Our Telegram trade copier offers different tables that are displayed for each solution (All trades, Closed trades, Opened trades) showing detailed results for all selected telegram channels. For each Forex signals channel, you will be able to see how many trades it has executed, lots, Profit, Loss, Net profit/loss, and Net Pips. With this amazing MT4 trade copier's feature, you will be able to control your performance effectively.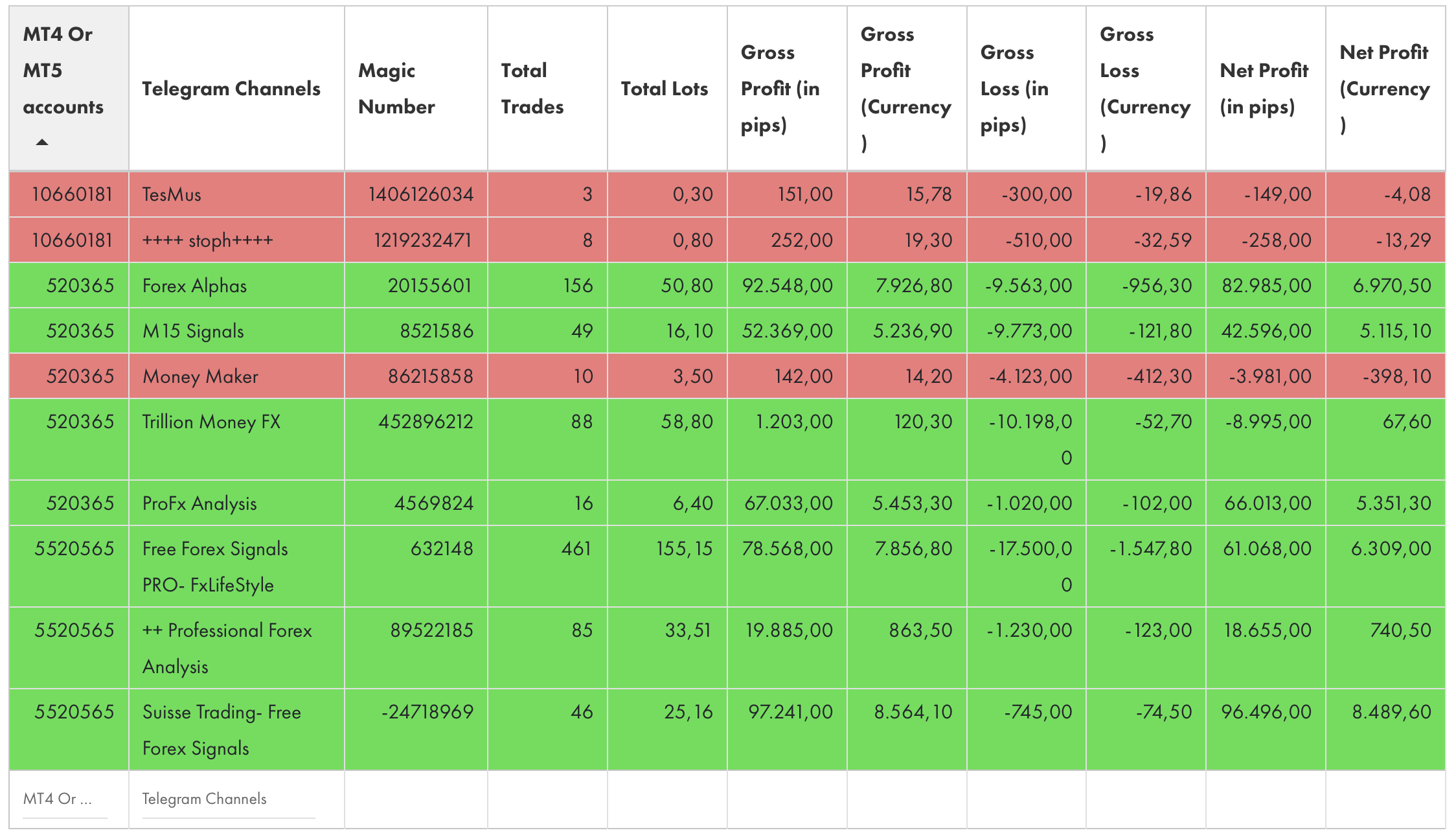 Professional High-Class Solutions
We put a strong and dedicated focus on the needs of Copy Trading to figure out the suitable solutions that best fit your needs. Our Telegram signal copier provides you with advanced and detailed analytics charts to compare the results of telegram channels in different ways.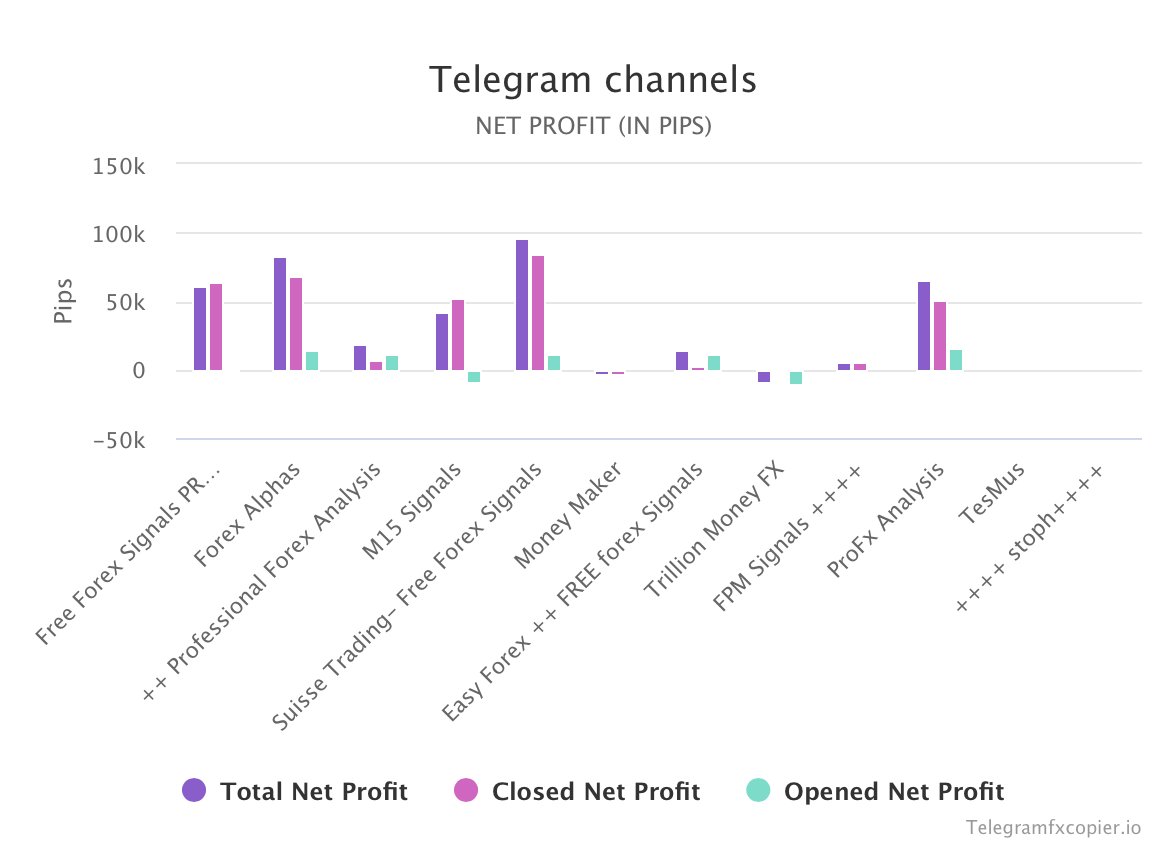 Our services assist all members to make our software works on their computer or on VPS.
Our support team is available on live chat 5/7 days to help all members to operate TelegramFxCopier according to their needs
If you have an idea or any suggestions to improve our system. Please don't hesitate and email us at suggestions@telegramfxcopier.io
Choose a plan that's right for you
We have plans for everyone.
Unlimited telegram channels
Advanced money & risk management
Unlimited trading signals
Helpdesk & Live chat support
For more than 10 trading accounts please contact us at sales@telegramfxcopier.io
Our members are very satisfied with the results achieved with TelegramFxCopier, Join our community to share your results and discuss about copy trading and signals.