AvaTrade Copy Trading Platform (2022 REVIEW)
Do you want to know what is the greatest Copy Trading Platform? If that's the case, we've got you covered in this article.
I'm sure you've heard of copy trading platforms before. If not, stick around because we are going to provide a full review of the best copy trading platform in the Forex industry.
A copy trading platform is a platform/software that is used for trading, such as opening, closing, and managing market positions via a financial intermediary such as an online broker. Brokers typically provide online trading platforms for free or at a reduced charge in return for keeping a funded account and/or performing a certain number of deals per month. The finest trading platforms combine powerful functionality with minimal cost.
Before we get into the meat of what is the greatest copy trading platform, let's define the term "copy trading."
Copy-trading is a technique of automating your trading by copying other traders' forex signals or trades. Newcomers who are still learning how to trade often find it beneficial to use it. Additionally, it helps to educate them during the process. Experienced traders can rely on automated Forex signals or trades, allowing them to step away from their screens when needed.
The purpose of copy trading, like regular trading, is to open positions on various financial markets, such as FX, CFDs on stocks, commodities, indices, and cryptocurrencies, and then close the position, ideally, once the asset's value has increased. However, just like trading for yourself, you might lose money here as well.
The most advanced and professional way to copy trading is by using trade copiers like TelegramFxCopier, which we will discuss in detail later in this article. But for now, let's recapitulate what you can expect to learn from this article.
Takeaways table:
What is copy trading?
What is the best copy trading platform?
What is AvaTrade?
Is AvaTrade safe?
AvaTrade pros and corns.
What investments that AvaTrade offers?
AvaTrade's mobile trading apps
AvaTrade's customer service
Trading experience with AvaTrade
AvaTrade's deposit and withdrawal
AvaTrade tools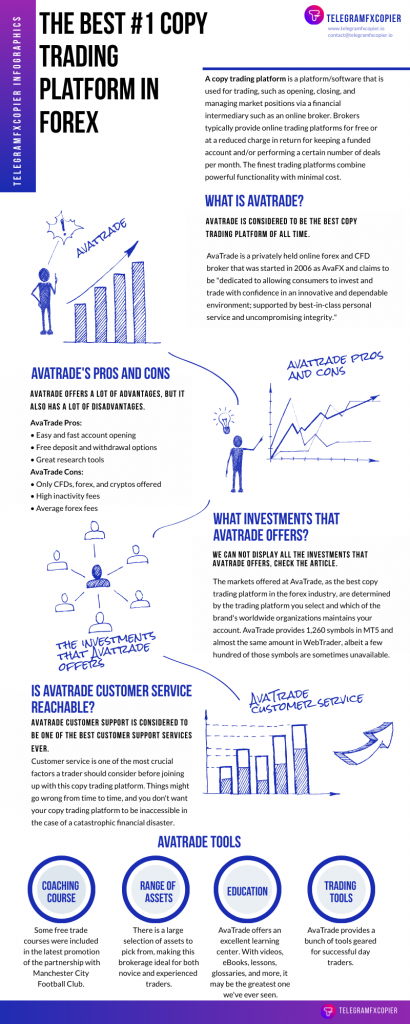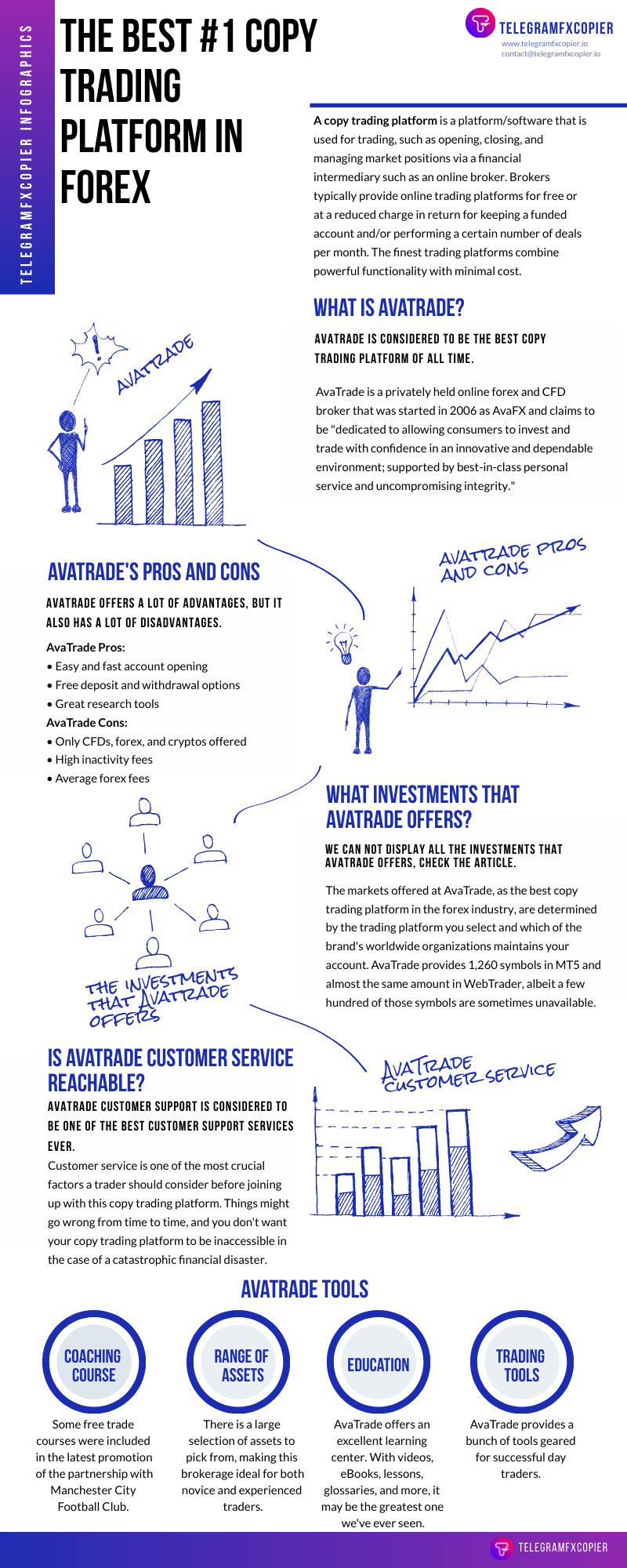 One of the Best Copy Trading Platforms
While it is acknowledged that there exist other copy trading platforms, it is widely accepted that AvaTrade is the foremost copy trading platform in the Forex industry.
What is the AvaTrade copy trading platform?
AvaTrade, a privately held online forex and CFD broker, was established in 2006 under the name AvaFX. They aim to provide consumers with a trustworthy and innovative trading environment, supported by excellent personal service and unwavering integrity.
AvaTrade is headquartered in Dublin, Ireland, and has satellite offices around Europe and the Asia-Pacific area. The company is registered in numerous jurisdictions worldwide. AvaTrade, like many other copy trading platforms, does not allow US traders.
AvaTrade provides a wide range of tradable products, including forex, stocks, commodities, cryptocurrencies, and indices, with industry-standard spreads, on a "vast range of trading platforms for both manual and automated trading, across a number of device types."
Is AvaTrade Safe?
AvaTrade is a copy trading platform with a Trust Score of 93 out of 99 and a 4.7 rating on TrustPilot. AvaTrade, while not publicly listed and without its own bank, operates under the oversight of multiple regulators. It has the highest level of trust from three tier-1 regulators, an average level of trust from four tier-2 regulators, and a lower level of trust from one tier-3 regulator. AvaTrade holds authorizations from reputable regulatory bodies such as the Australian Securities and Investment Commission (ASIC), the Investment Industry Regulatory Organization of Canada (IIROC), and the Japanese Financial Services Authority (JFSA).
AvaTrade's pros and cons
AvaTrade, the best copy trading platform, caters to novice investors seeking to grasp the basics of FX and CFD trading. AvaTrade is perfect for inexperienced and undercapitalized traders looking to develop on restricted skill sets, with a product portfolio that offers diversity, moderate spreads, and a choice of user interfaces.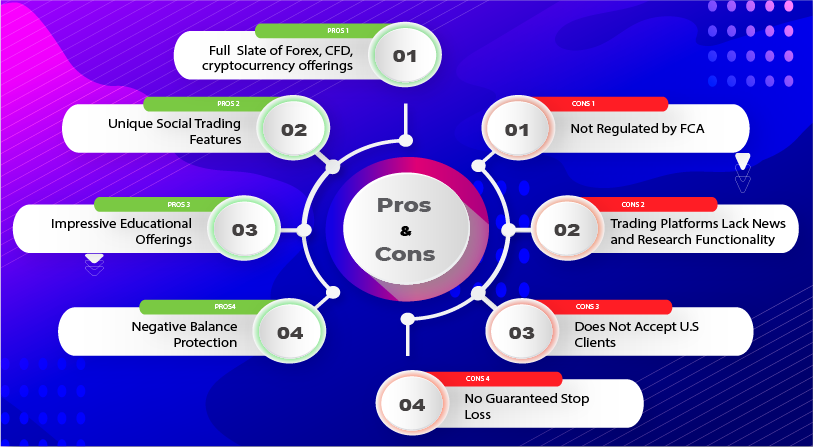 What instruments does AvaTrade offer? 
AvaTrade, known as the top copy trading platform in the forex industry, offers various markets based on the trading platform you choose and the global organization that manages your account. In MT5, they provide 1,260 symbols, while WebTrader offers a similar number, though occasionally some symbols may be unavailable.
Note: AvaTrade offers cryptocurrency trading through CFDs, but not by trading the underlying asset (e.g. buying Bitcoin). No broker's U.K. business offers Crypto CFDs to retail traders or residents of the United Kingdom.
The table below outlines the various investment packages accessible to AvaTrade clients.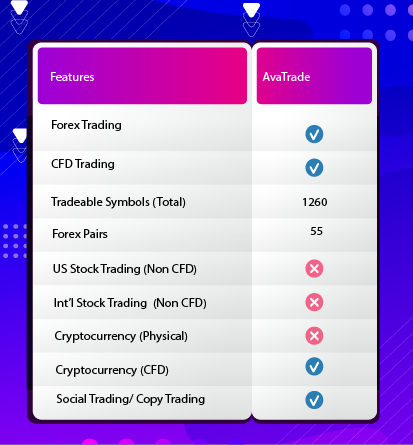 AvaTrade's mobile trading apps
The proprietary applications given by AvaTrade provide a mobile experience that will satisfy most traders (even beginners), though they are not as complex as the mobile apps provided by industry leaders like Saxo Bank, CMC Markets, or TD Ameritrade (U.S. residents only). Having said that, AvaTrade continues to make incremental improvements in this sector and offers a well-rounded set of applications.
AvaTrade offers its own mobile platforms, AvaTradeGO and AvaOptions, as well as the whole MetaTrader suite (MT4 and MT5) for Android and iOS smartphones.
Ease of use: The AvaTradeGo app is quite similar to its web cousin, and it has a comprehensive default set of synchronizing watchlists as well as a volatility protection tool called AvaProtect. AvaProtect allows a trader to lessen the risk of an open deal by partially hedging it with an fx option – for a cost.
Charting: The AvaTradeGo program includes 93 indicators on its charts, but we found that accessing them needs too many steps. But, there are no sketching tools and just three chart kinds to choose from. The online platform provides integrated research and associated tools that are comparable to what Trading Central offers. Overall, AvaTrade's mobile charts are nice, but they could be better.
The AvaOptions app flows wonderfully, and uses a unique approach to display option-chain data. AvaTrade overlays strike prices on a chart, allowing traders to modify the strike price by moving it higher or lower — a feature I found really useful. There are 14 basic options-trading strategies available, and picking an option plan will at once load the order ticket with the corresponding options contracts. The app presented the whole experience in landscape format, requiring me to handle my phone as if it were a game controller.
Is AvaTrade customer service reachable?
Customer service is one of the most crucial factors a trader should consider before joining up with this copy trading platform. Things might go wrong from time to time, and you don't want your copy trading platform to be inaccessible in the case of a catastrophic financial disaster. You'll want many support channels and as close to 24-hour assistance as feasible.
During our AvaTrade assessment, we validated 24/5 customer support via four channels:
Phone
Email
WhatsApp
Live Chat
AvaTrade offers dedicated phone lines for customer service in numerous countries, including the United Kingdom, most of Europe, Australia, Japan, South Africa, Nigeria, China, and many others. Customer service hours are from Sunday night at 21:00 GMT to Friday at 21:00 GMT, providing 24/5 service.
Trading experience with the AvaTrade copy trading platform
AvaTrade, the leading copy trading platform, offers a diverse selection of platforms for both manual and automated traders. AvaTrade, the leading copy trading platform, offers a diverse selection of platforms for both manual and automated traders. Although AvaTrade has discontinued its social trading programs, RoboX and Mirror Trader, as well as its dedicated platform, AvaTradeAct, and Metatrader replacement, the platform remains committed to providing exceptional trading options.
WebTrader is the copy trading platform's default browser-based interface. It's easy to use and understand, although it's a little plain and lacks certain essential functionality that rivals provide. Clients who want to use the industry-standard Metatrader 4 (MT4) or the newer MT5 to execute traditional technical or fundamental trading techniques can (MT5).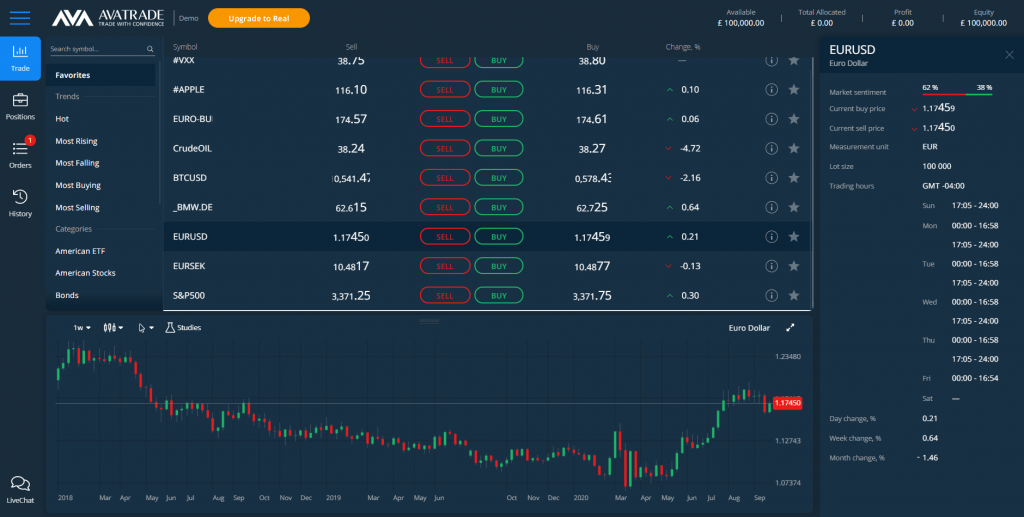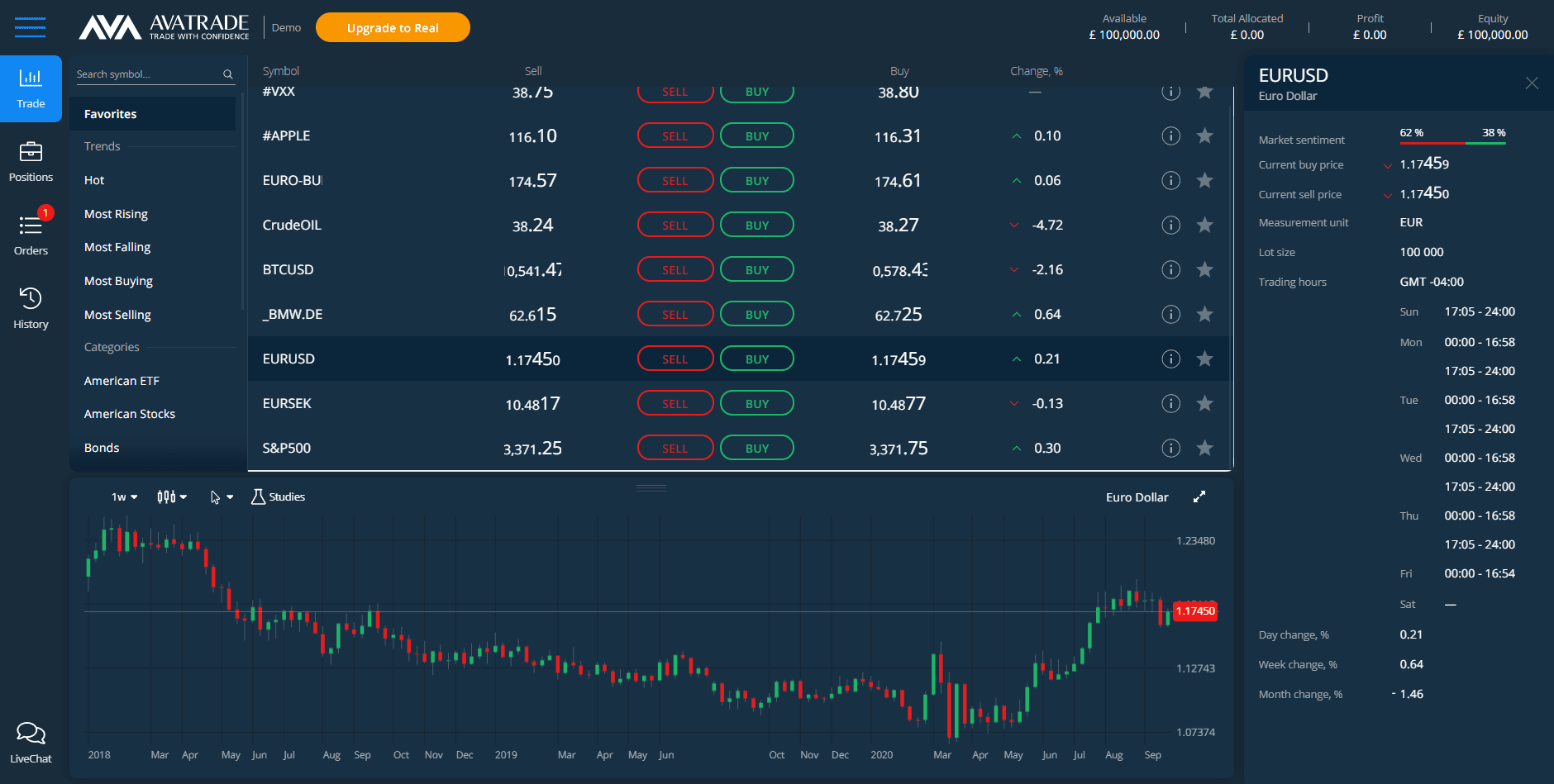 AvaTrade provides helpful information on its website to assist clients with their trading decisions. This includes details on order execution policy, holiday trading hours, economic calendar, CFD rollover, and stocks results releases, all found under the "Trading Info" page. Traders can also use the "Forex Calculator" link to estimate potential earnings, losses, and costs like overnight interest. These features have contributed to AvaTrade's excellent reputation as the best copy trading platform ever.
AvaTrade's deposit and withdrawal
Deposits – AvaTrade provides a number of deposit alternatives to its customers. Traders may fund their accounts using credit cards (VISA, MasterCard, and debit cards), bank wire transfers, and a variety of e-wallets including Paypal, Skrill, NETELLER, and WebMoney. The initial deposit needs to start an account is only $100.
Withdrawals – Traders may get their money back using the same ways they used to deposit it. Requests for withdrawals may take up to 5 business days to complete. Once processed, they perform withdrawals promptly using the available methods.. The Ava Debit Mastercard, which traders may apply for once they've set up an account, is the fastest way to withdraw money.
AvaTrade Tools
AvaTrade, being the top copy trading platform, provides its customers with a variety of unique tools to help them in their trading adventure, including:
Free trading coaching course: Free trade courses were included in the latest promotion of the partnership with Manchester City Football Club. More details here.
Range of assets: There is a large selection of assets to pick from, making this brokerage ideal for both novice and experienced traders.
Education: AvaTrade offers an excellent learning center. With videos, eBooks, lessons, glossaries, and more, it may be the greatest one we've ever seen. Their website has a whole section dedicated to training their traders. Also, the whole site is quite useful for traders.
Trading tools: AvaTrade provides a bunch of tools geared for successful day traders. Their automatic trading software bundles, which are excellent for day and copy trading, are one of their most amazing features.
You should now have a general idea of what the best copy trading platform is and why AvaTrade has taken the top spot. "Is that it?" is the main question. "Does that cover all I'll need to get started copy trading?" The answer is no. Copy-trading takes time and effort to learn and execute, and losing is unavoidable. TelegramFxCopier solves this problem. TelegramFxCopier is an AI-powered trade copier that copies Forex signals automatically from Telegram channels/groups to MT4/5 within a fraction of a second.
Make your copy-trading journey count with TelegramFxCopier.
---
Subscribe to our Newsletter
and get updated content from us
Please note that sending this form you give your agreement with our privacy policy