2022 Review: Signals from Forex Signal Factory
Here is a 2022 review that entails everything you need to know about Forex Signal Factory.
Amidst the Forex market swarm of signal providers boasting ultimate accuracy, who truly reigns as the supreme purveyor of precision? Could it be signals from Forex Signal Factory? Unveil the hidden gems of the Forex signals realm, explore the world of free and best Forex signals, and embrace the power of trade copiers and Forex trading signals!
Today, we will conduct an overall review of the Forex Signal Factory, which is one of the most well-known Forex signals providers in the trading market. But, before we get into the details, what exactly does the term "Forex signals provider" mean?
A Forex signal provider is a professional trader that allows others to duplicate his or her trading operations on their own trading accounts by granting access to the data on his or her trading activities. Signals can be offered for free or on a for-profit basis. The Telegram app is commonly used by signal providers to deliver signals directly to their clients.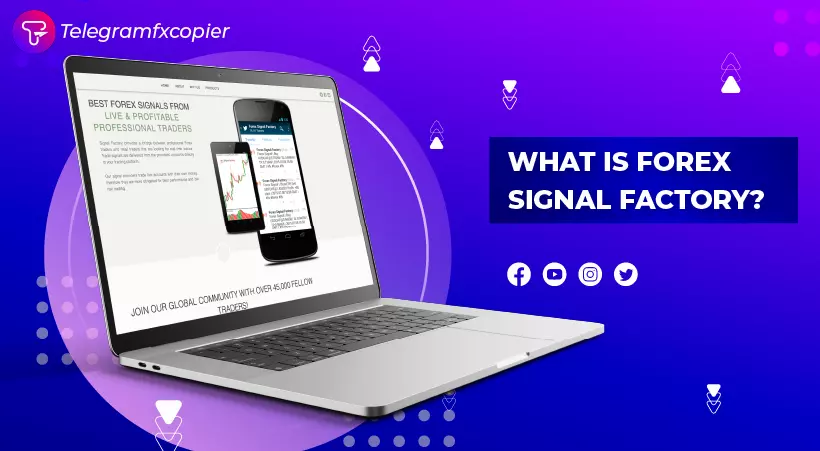 What is Forex Signal Factory
The Forex Signal Factory is a group of expert traders who provide trading signals on well-known financial marketplaces. The service was created to counter vendors that promise to provide free signals while actually requiring you to open an account with the broker linked with their service. As a result, Forex Signal Factory takes pleasure in its independence and ability to provide free trading services.
Throughout almost four years of operation, the Forex Signal Factory staff has done an excellent job. It's absolutely free, and it's a fantastic resource for manual traders seeking high-quality entries. In today's market with so much competition, finding a free good forex signal provider is difficult, but Forex Signal Factory is one of them. They aren't the most trustworthy alerts, but they are free.
Forex signal factory, like the majority of forex signal providers, does not have any plans. Instead, they make their pips available on three other platforms: Telegram, Facebook, and Twitter.
How Does Forex Signal Factory Work
The Forex Signal Factory gives signals from profitable traders. Their website states that when a trader's account falls below its starting balance, their signals are no longer available and that they will only be displayed once they become profitable again.
Signal providers trade on live accounts with their own money, incentivizing users to avoid losing money. Instead of profit or percentage, the service evaluates a provider's success in terms of net pip changes. They don't even take the size of a provider's lot into account when evaluating performance.
Every day on Twitter and Facebook, forex signals are provided hourly. One daily article on an instrument with significant economic or financial news is published on their Telegram channel. Regrettably, Forex Signal Factory makes no mention of how its suppliers assess and approach the forex market.
What does Forex Signal Factory provide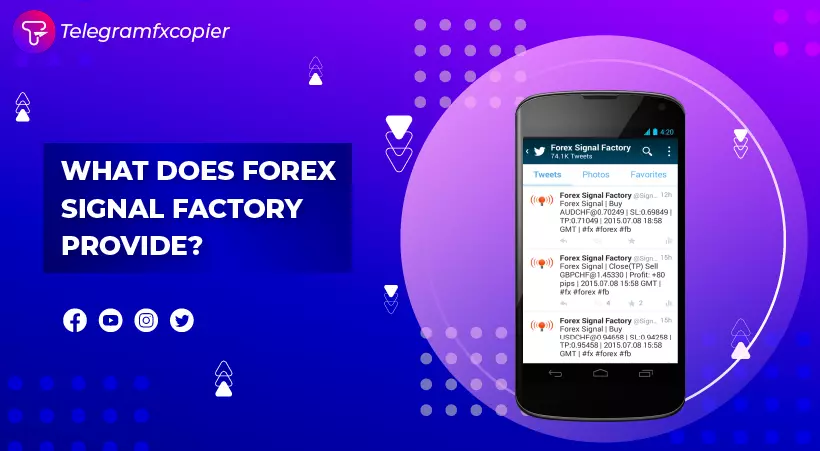 It's worth noting that Forex Signal Factory is one of the most well-known Forex signal providers in the industry's Forex trading. Forex Signal Factory does more than just provide Forex signals, it does offer more services like the following:
Forex signals: Signals on major and minor currency pairs, such as EUR/USD, GBP/JPY, and GBP/USD, are largely provided by the service. Every day, between 10 and 20 signals are posted on social media sites. Each signal will provide an entry price, the trade's GMT time, and suggested stop loss and take profit levels.
Forex articles: You can occasionally find thorough blog postings about currencies, especially when there is important news around a currency pair. This information is available on their Telegram channel.
Signing up for their Telegram channel is the only way to get access to the following services:
Stock signals: Get buy and sell recommendations on the most popular stocks and shares, including Snapchat, Ford, Apple, and PayPal.
Index signals: The FTSE 100, S&P 500, and Dax 30 are among the main global indexes for which signals are available.
Commodities signals: On precious metals and energy, such as Brent Crude Oil, regular alerts are issued.
Crypto Signals: Although cryptocurrencies like Bitcoin often receive less attention, FSF offers valuable trading signals for this intriguing market.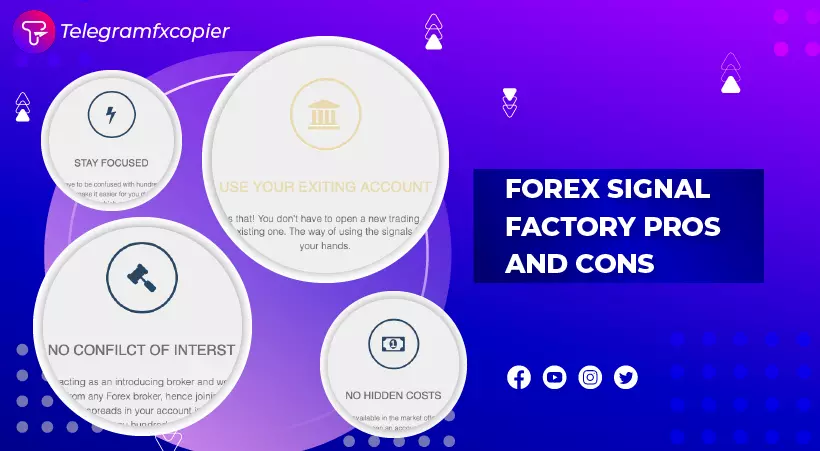 Pros:
On Twitter, Facebook, and Telegram, you have a decent following.
Telegram articles with detailed strategies and news
Levels of entry price, stop loss, and take profit are all provided.
Existing accounts can be used by traders.
Signals service that is completely free
Forex signals on a daily basis
Cons:
There is no track record for signal providers.
There is no formal customer support service, and the associated information is limited.
There is no protection for traders.
Unregulated
Final Word on Forex Signal Factory
FSF provide free services with no additional fees. Users benefit from daily forex trading recommendations as well as market analyses on equities, commodities, indices, and cryptocurrencies. But, Forex Signals Factory is an unlicensed company that provides users with no protection. There is also a lack of openness regarding trading techniques and provider track records. As a result, confirming Forex Signal Factory's credibility is difficult.
We propose investing in a Forex signal paid provider who can ensure signal quality and provide excellent customer service. Check out these Forex signal providers if you're looking for the greatest Forex signal providers on the market.
At the end of the day, having a reliable Forex signal provider is good, but do you know what's even better? making maximum use of their signals. If you want to make the most of your Forex signals provider, meet TelegramFxCopier. TelegramFxCopier is an AI-based trade copier software that employs powerful algorithms to instantly copy any signal format, whether image or text, from practically all Telegram channels to MT4/5 in 0.01 milliseconds.
TelegramFxCopier has developed a virtual revolution in the Forex trading business by allowing traders from all over the world to automatically and instantaneously copy trades from any Telegram channel to MT4/5. Furthermore, TelegramFxCopier has managed to maintain its position as the top N°1 Forex copier in the industry since 2018.
Sit back and let TelegramFxCopier handle the heavy lifting for you.
Subscribe to our Newsletter
and get updated content from us
Please note that sending this form you give your agreement with our privacy policy