FTMO Review 2022: What is FTMO? And How to Get Started?
This review will help you through the process of getting started with FTMO. It's a straight-forward, step-by-step guide that takes less than 10 minutes.
Have you heard about FTMO before?
Personally speaking, I believe that if you're interested in the financial sector, you've probably heard of it. But, if FTMO has never crossed your mind before, that is OK since today we will cover what FTMO is and how it works.
FTMO is an initiative that seeks successful traders. They created a two-step review process to see if a trader had all of the attributes they desire. The FTMO Challenge and Verification are the two phases in this process. The training is particularly designed to identify trading talent. A trader's route is difficult, but there are educational apps, account analysis, and performance psychologists here to help.
Traders who successfully complete the course are offered a position in the FTMO Proprietary Trading business, where they can remotely manage up to $300,000 USD and constantly expand the account in accordance with their Scaling Plan. As an FTMO Trader, you are entitled to 70% of the earnings you make.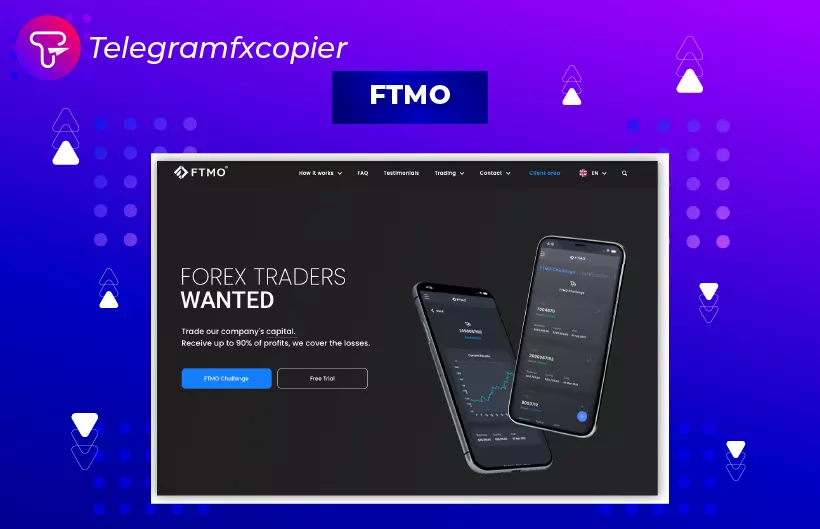 How to Start with FTMO
Before we get to the meat of how to start with FTMO, It is important to mention that You must pay a fee before beginning the FTMO challenge. The FTMO Challenge price includes everything, including the Verification. There are no recurring charges with them. Furthermore, you will get your cost when you withdraw your first profit from the FTMO Account.
FTMO also provides the opportunity of taking a trial challenge to ensure that you understand what you are up against.
After you sign up, they will provide you with a free trial in which you may trade as if you were in the real Challenge. During the Free Trial, you will also be able to try our Trading Applications and get a reduced analysis version of your performance. Please keep in mind that you will not be eligible for financing based on your performance in the Free Trial.
After registering, you will have access to the Client Area, where you may apply for a challenge. You must make a few decisions here:
The account's base currency: the options are EUR, USD, CZK, and GBP.
Risk: Traders have two options: 'Normal' or 'Aggressive.'
a) The normal risk option provides for a maximum loss of 10% and a profit objective of 10%, with traders needing to maintain no more than a 5% loss on any given day.
b) The aggressive risk option provides for a maximum loss of 20% as well as a profit objective of 20% while requiring traders to maintain no more than a 10% loss on any one day. Even though the profit objective increases with aggressive risk choices, it may be a preferable alternative for high-frequency traders, basket traders, and traders with too aggressive trading algorithms who demand more 'breathing room' for the transactions.
Initial Capital: Starting capital with FTMO might range from $10,000 to $100,000. Bigger capital necessitates a higher participation payment, as well as the option to choose. The aggressive risk will cap the trader's capital at $50,000.
Trading Platform: Here you may select your chosen trading platform (MetaTrader 4, MetaTrader 5, or cTrader).
They, the FTMO team, must first ensure that you can trade responsibly and manage risk before allowing you to manage money. So they have a two-step review procedure with objectives/rules for each step/challenge. Fair regulations control their competitions. These are famous as Trading Objectives. You show that you are a diligent and experienced trader by completing the Trading Objectives. It is totally up to you to choose your trading strategy.
Step 1 – The FTMO Challenge.
Step 2- Verification process.
Benefits of FTMO
We are well familiar with the grass and the commerce business. It needs some effort and study for us to customize and maximize the optimum funding process circumstances for our clients. Their primary goal is to ensure that their traders have the highest possible possibility of success. Simply put, if their traders are lucrative, they will be as well. It makes logical sense for them to help their traders by giving them the freedom to trade without constraints or limitations, as well as the finest account conditions and leverage that no one else offers.
The most widely used trading platforms:
FTMO platform offers a diverse range of assets, very cheap fees, and super-raw spreads.
There are no restrictions on trading style:
Trade your own trading strategy with no constraints or boundaries. EAs, hedging, and discretionary trading are all options.
Psychologist & Trading Applications:
Access to in-house trading software as well as assistance from our performance psychologist.
Several trading systems are available:
They provide the greatest trading solution for all of our clients in the form of our MT4, MT5, and cTrader accounts, which are powered by data feeds straight from our prime liquidity sources. They make every effort to imitate real-world market circumstances by offering super-raw spreads, cheap commissions, and no markup on all demo trading accounts with fake funds.
Only a one-time cost:
There are no recurring fees, membership fees, or other hidden costs. Furthermore, you will repay the cost when you withdraw your first profit.
Analysis of Accounts:
A comprehensive examination of your trading account, with constructive criticism from the FTMO firm.
Which Instruments Do You Have the Right to Trade, and What Strategies to Employ?
It is totally up to you to choose your trading strategy. They have no reason to limit or restrict your trading approach, whether it's discretionary trading, hedging, algorithmic trading, EAs, or anything else. So long as your trade is legal. They don't even limit the instruments or position sizes you can trade. You can trade all of the instruments and assets offered on your trading platform (Forex, Indices, Commodities, Stocks, Crypto, and so on). They provide you with ultimate independence.
GOOD LUCK.
Subscribe to our Newsletter
and get updated content from us
Please note that sending this form you give your agreement with our privacy policy