The Advantages of Copying Forex Signals In 2022
In this article, we are going to expose some underrated advantages of copying Forex signals in 2022.
We've all heard that Forex is quite profitable in the long run.
Yet, the question that keeps coming up is to what extent? How can you profit from the financial sector if you have no prior experience?
Before we dive into the answers to the above-mentioned questions, it's worth noting that, according to the Triennial Central Bank Survey of Forex and OTC, the Forex market generates over 6.6 trillion dollars every single day. With this in mind, the Forex market is the world's largest financial market, even larger than the stock market.
The fact that it is the world's largest financial market makes it extremely competitive, as retail traders continue to enter the Forex sector on a daily basis. But have no fear: the Forex markets are encouraging retail traders with less expertise to join the wave and participate in this financial boom through copying Forex signals.
Copy Forex signals enable traders to copy Forex signals made by other traders in the financial markets. The aim of copying Forex signals is for the retail traders to be in the same position as the traders being copied. When following another trader's trades, one does not get the layout of the trader's strategy. This is in contrast to mirror trading, which allows you to replicate a trader's real strategies. But in this article, we're going to focus on copying Forex signals rather than mirror trading.
Copying Forex signals is a relatively new method that many investors have adopted. It is a technique that allows traders on live markets to copy the trades of another professional trader. People can provide you with current open signals. This is frequently done with Forex copiers such as TelegramFxCopier.
Copying Forex signals is a branch that allows ordinary traders to participate in the Forex market and become a part of this financial tsunami. Not to mention the numerous benefits of duplicating Forex signals, which we will discuss in this post.
The Advantages Of Copying Forex Signals In 2022
Here are the main advantages of Copying forex signals: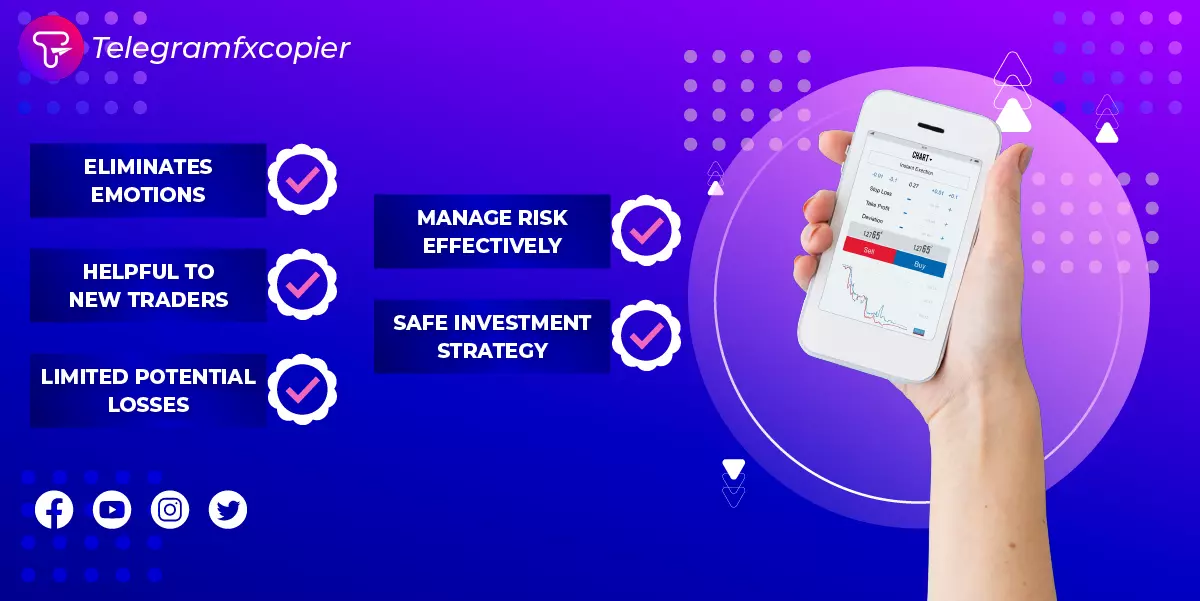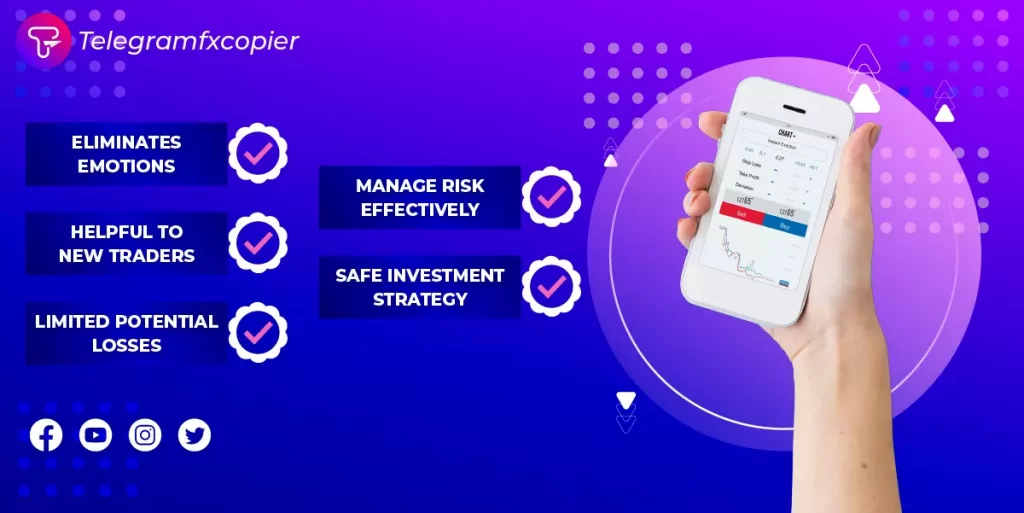 Eliminates emotions from the trading decision-making process:
By copying Forex signals from an expert Forex provider, you can limit human participation and, as a result, avoid being influenced by your own emotions, which can have a negative impact on trading success. By using Forex copiers such as TelegramFxCopier to replicate and execute your Forex signals, you give yourself the opportunity to avoid allowing your emotions to influence your trading decisions.
Allowing an automated trade copier to perform the job for you is the best method to do copy trading. TelegramFxCopier is one of the greatest Trade copiers in the Forex industry. TelegramFxCopier is an automated software that employs clever algorithms to automatically copy trades from any Telegram channel to your MT4/5 account.
Helpful to new traders:
People who are fresh to the trading market are frequently seeking a successful strategy. They may see how others profit by copying Forex signals. They can quickly pick up on such strategies and begin generating positive profit. To begin trading right away, you don't need to do a massive amount of research or even know a lot about the market. The trades of the professional you are watching are all traded. If they succeed, you will succeed as well. The more successful traders you emulate, the higher your chances of success.
Limited potential losses:
Most traders are not well-equipped to deal with losses. Some of them may be investing their life savings or significant discretionary money. Significant losses might have a negative impact on their way of life. By paying careful attention to what established traders are doing, copy Forex signals can help these traders to reduce possible losses. Closely monitoring these actions might be the difference between a fantastic day and a bad day in the market.
Manage risk effectively:
If you've been trading manually, you've undoubtedly run across risk management difficulties. Investors can copy as few or as many existing investors as they desire via copy Forex signals. Observing what they do and using effective methods is a fantastic approach to reduce risk while staying ahead of market trends. Simply using an automated Forex trades copier like TelegramFxCopier that has an optimal risk management option that will let you generate good money in no time.
Copying Forex signal with safe investment strategy:
Copying Forex signals is a strategy that does not require much thinking or effort. This approach gives you the chance to choose whatever Forex signal provider you please. You might begin right away, or you can see other providers before deciding to copy what they do. If a certain signal provider isn't succeeding, you may always go on to another provider to follow. The best part is that you can do it on your own schedule. You are free to trade whenever it is convenient for you.
If you're stumped as to how to find the best Telegram forex provider, TelegramFxBacktest is definitely what you're looking for. TelegramFxBacktest is software that utilizes smart algorithms to backtest any Telegram channel using historical data to evaluate whether or not a channel is profitable. Find the best Forex signal provider with TelegramFxBacktest.
Copy Forex signals is ideal for inexperienced traders. It enables you to walk into the risky world of finance and potentially earn. Even if you lose, you won't lose your whole budget, and while there are no guarantees, it's a good method to start trading. With TelegramFxBacktest, you can analyze any Forex signal provider based on their performance and statistics, ensuring that you are on the right track.
At the end of the day, copying Forex signals has managed to make the Forex industry accessible for retail traders who have no Forex background allowing them to take a part in the financial market as well.
Subscribe to our Newsletter
and get updated content from us
Please note that sending this form you give your agreement with our privacy policy