TOP #1 MT4 Trade Copier In the Forex Industry 2022
TelegramFxCopier has been voted the N°1 MT4 trade copier in the Forex business for 2022 by over 8500 satisfied users.
6.6 trillion dollars is what the Forex market makes every day.
According to the 2019 Triennial Central Bank Survey of Forex and OTC derivatives markets, the foreign exchange or forex market is the world's largest financial market, even larger than the stock market, with a daily volume of $6.6 trillion.
With trillions of dollars changing hands every day, the FX market is the largest and most liquid market on the planet. The location is not centralized. On the other hand, the FX market is a global electronic network of banks, brokers, institutions, and individual traders (mostly trading through brokers or banks).
Forex trading on a big scale started with the rise of the internet, so brokers could provide existing retail investors access to this asset class, which was previously exclusive to huge institutional traders like banks and hedge funds. To facilitate Forex trading, the Internet offered retail individuals simple market access through copy trading software.
Copy-trading gives the green light to traders to copy deals and trades made by other investors in the financial markets. The purpose of copy trading is for the trader to hold the same positions as the investor who is being copied. When copying another trader, one does not get the layout of the trader's strategy, but instead essentially follows their trades. This is in contrast to mirror trading, which allows you to replicate a trader's actual strategies.
In fact, copy trading has revolutionized the forex market by allowing new traders to copy the trades of experienced traders. TIME, on the other hand, has been a problem for many new traders, causing them to lose a significant amount of money. In copy trading, time is a vital component that might influence whether or not you succeed. With that in mind, copy trading necessitates the presence of a trader at the time a provider, the individual or organization you're copying, shares a trade.
Fortunately, MT4 trade copiers are available to help with this problem. An MT4 trade copier is a piece of software that allows you to copy trades from a trader to your account. This is the easiest and effective approach to manage many MetaTrader accounts and open the same trades on different trading platforms at the same time. There are a variety of MT4 trade copiers available, but because the MetaTrader 4 platform is one of the most popular, the majority of trade copier software is built based on it.
There are a lot of MT4 trade copiers out there, but if you ask me which one is the best, I'd choose TelegramFxCopier.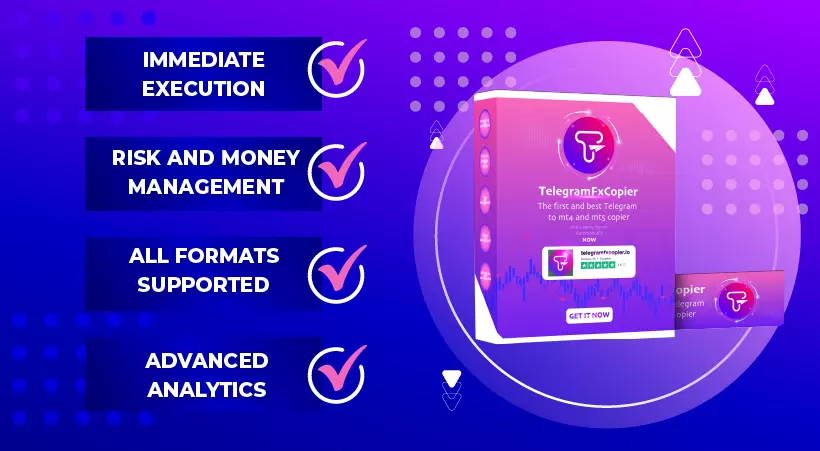 TOP #1 MT4 Trade Copier In The Forex World
TelegramFxCopier is an artificial intelligence-based piece of software that automatically copies trades from a Telegram provider, the person or group you are copying, to your MT4/5 account in less than 5 seconds. This MT4 trade copier has built a favorable reputation by delivering a significant service to its users that outnumbered 8500 happy members.
The power of this MT4 trade copier lays in the smart algorithms that let it copy trades from any telegram channel without exception in the blink of an eye, which makes it the best MT4 trade copier in the market. Almost every MT4 trade copier service in the forex market has failed to provide a high-quality service to their consumers. TelegramFxCopier stepped in to fill the void left by MT4 trade copiers' major failures through delivering excellent results.
TelegramFxCopier has risen to first place and become the TOP N°1 MT4 trade copier in the Forex industry by introducing new features that have simplified the trading process. The following are the features that have propelled this MT4 trade copier to the top of the Forex industry:
Immediate Execution: As previously stated, time is a critical component that might influence your performance in the Forex marketplace. TelegralmFXCopier came up with a solution to this challenge by offering its customers Immediate Execution. With TelegramFxCopier you can execute signals in less than 5 seconds directly from Telegram channels. Our Telegram copier will directly copy any signal format, whether it is an image or a foreign language, from Telegram to MT4 or MT5 platforms.
Risk Management: Risk management refers to the procedures used when trading in order to limit losses and maintain a favorable risk/reward ratio. With this MT4 trade copier, copy TP & SL, Trailing SL, and custom Breakeven from your provider or set it yourself. You'll be able to configure your own unique SL and TP to avoid the signal provider simply sending the signal without the SL and TPs. You can also use a Trailing Stop Loss to close each step with a percentage profit. For signals with only one TP, Custom Breakeven is a great solution.
Money Management: The procedures of planning, saving, investing, spending, or otherwise managing an individual's or group's capital usage are referred to as money management. This MT4 trade copier allows you to customize your money management strategy from its EA settings. You'll have the option of trading with a fixed lot or a percentage of the risk per trade. With TelegramFxCopier copying signals with a lot of TPs are also available.
All Formats Supported: Telegramfxcopier is the number one MT4 trade copier in the Forex market since it supports all signal formats. TelegramFxCopier is the world's first Forex copier that can intelligently read all Telegram message formats, including text, pictures, captions, and more. As a result, this MT4 trade copier copies trading signals from all of these formats into MT4 or MT5 platforms.
Professional Analytics panel: This MT4 trade copier is particularly proud of the analytics panel feature. It provides various tables for each solution (All trades, Closed trades, Opened trades), each of which displays comprehensive results for all specified telegram channels. You'll be able to view how many transactions, lots, profit, loss, net profit/loss, and net pips each channel has completed. You will be able to efficiently regulate your performance with this fantastic feature.
Advanced Analytics: TelegramFxCopier places a great emphasis on Copy Trading needs in order to determine the best solutions for customers. This MT4 trade copier includes comprehensive and thorough analytics charts that let you analyze the outcomes of telegram channels in a variety of ways.
The mentioned above features are not all that this MT4 trade copier has brought to the Forex market. Here you may see all of TelegramFxCopier's features.
At the end of the day, copy trading makes it simple for retail traders to copy expert traders with years of experience in the Forex market and get the same outcomes. The Forex industry's rapid growth has given rise to so many MT4 trade copiers, which have simplified the trading process and made it more accessible to all traders. But, when it comes to finding the best MT4 trade copier, we can't help but mention TelegramFxCopier.
Subscribe to our Newsletter
and get updated content from us
Please note that sending this form you give your agreement with our privacy policy