What Is a Forex Copier & How does it Work?
Wondering what is a Forex copier and how it works? Stop the search, you have reached your destination.
Forex, or foreign exchange, may be defined as a network of buyers and sellers who exchange currencies at an agreed-upon price. It is the process through which people, businesses, and central banks exchange one currency for another — if you have ever traveled overseas, you have most certainly performed an FX transaction.
While some foreign exchange is done for practical reasons, the great majority of currency conversion is done to make a profit. Because of the volume of money exchanged each day, the price fluctuations of some currencies can be very erratic. This volatility is what makes forex so appealing to traders: it increases the possibility of huge gains while simultaneously raising the danger.
Because the Forex market is one of the riskiest marketplaces in the world, it has become challenging to access by anybody. But, due to the rapid advancement that the technology witnesses, Forex trading has become more accessible to nearly everyone through copy trading. Simply defined, copy trading is when you copy the trades of a skilled trader you choose to follow. Following someone else's trades allows you to benefit from the Forex market even if you have no prior expertise. This Forex branch allows retail traders to participate in the Forex market.
It's worth noting that using Forex Copier is the finest approach to copy trading.
What is a Forex Copier?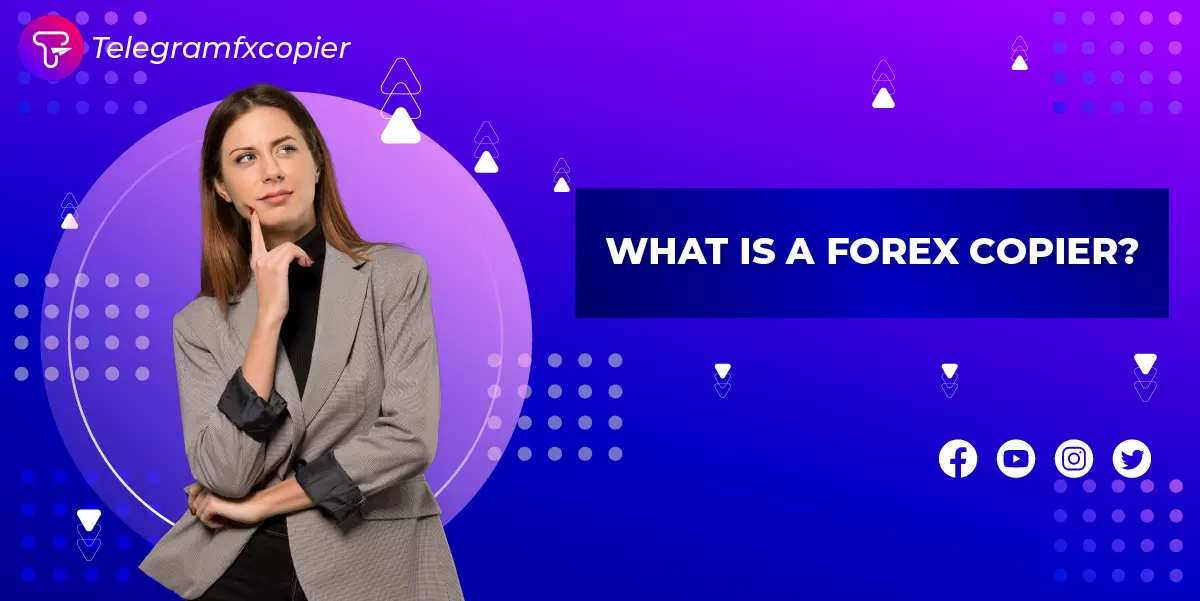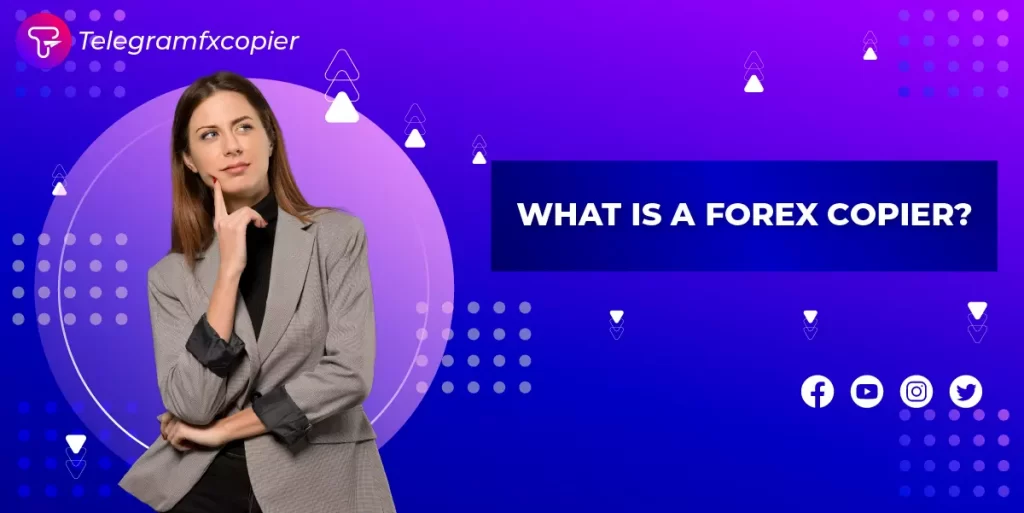 A Forex copier is a piece of software that allows retail traders to copy transactions or trades from a provider to an MT4/5 account. This is the most simple and effective approach to copy trades from your provider to your MetaTrader accounts. Besides, it helps you to open the same transactions on different trading platforms simultaneously.
Unlike mirror trading, which allows traders to copy certain trader strategies, the Forex copier copies only trade and execute them on the MT4/5 account without replicating the strategy. Any taken trading action by the provider such as opening a position, assigning Stop Loss and Take Profit orders, or closing a position, is copied and executed by the Forex copier.
We can't help but bring up TelegramFxCopier whenever the topic of Forex copier comes up. If you've been trading Forex for a long while, you're probably aware that TelegramFxCopier is the N°1 Forex copier on the market. TelegramFxCopier is a piece of software that utilizes smart algorithms to automatically copy trades from any Telegram channel to your MetaTrader account (MT4/5) in under 3 seconds. Let TelegramFxCopier copy and execute trades for you while you sit back and watch money trickle in.
Aside from immediate execution, image recognition, and multi-lingual support, TelegramFxCopier has introduced new features to the Forex market that have surpassed the competitors. The following are the additional features that propelled TelegramFxCopier to the top of the Forex copiers ranking.
Unlimited telegram channels
Unlimited trading signals
Advanced money & risk management
Advanced analytics
Video documentation
Help desk & Live chat support
How does Forex Copier Work?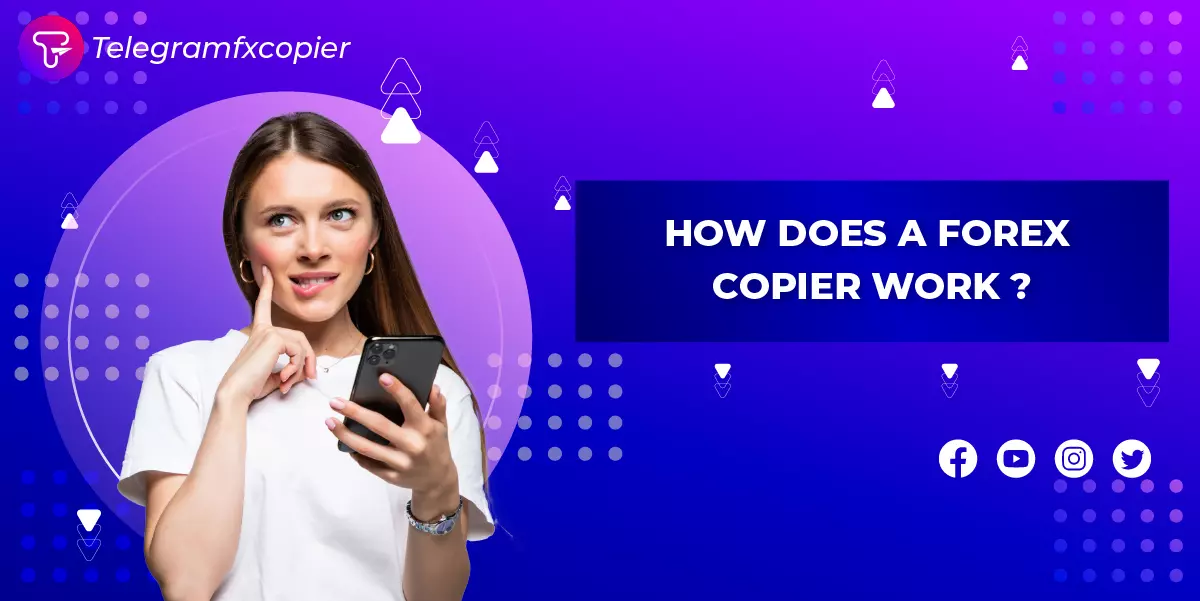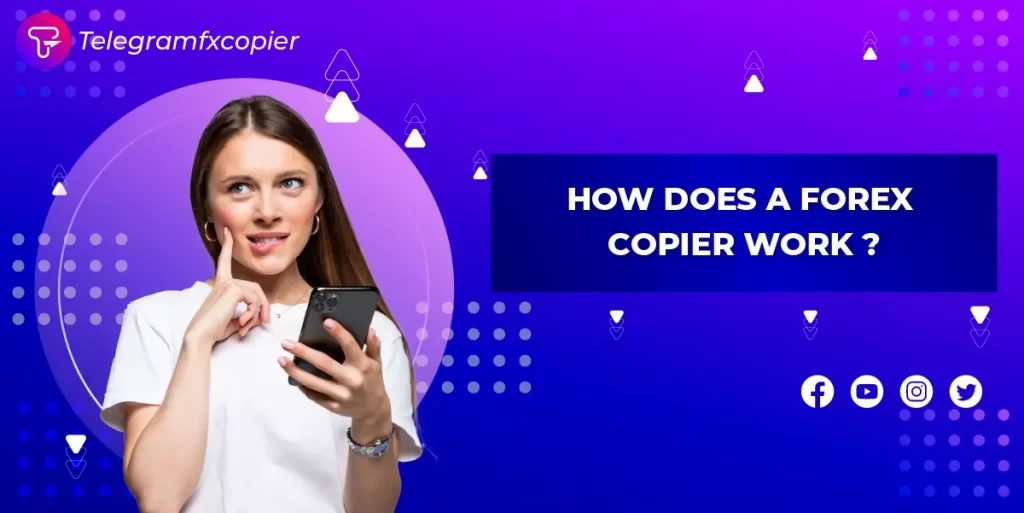 In the process of describing how the Forex copier works, we will focus 100% on TelegramFxCopier as it is the greatest Forex copier. Before we get into the specifics of how Forex Copier works, it's important to note that choosing the right Forex signal provider may be difficult. But don't worry, we've already done the legwork for you by compiling a list of the top 5 Forex signal services on the market.
Simply put, the Forex copier works as an automated connector that makes the process of copy and executing the trade from Forex signal Telegram to Metatrader platforms. A forex copy trader is completely automated. That implies you don't have to keep track of your trades from start to finish. If you are not online when your transaction is in place, you will receive immediate notification updates on your MT4 trading account.
With a Forex copier, such as TelegramFxCopier, you may copy trade from practically any Forex Telegram automatically and without your involvement. Forex copiers have made copy trading easier since they have automated 90% of the process; the remaining 10% is when you set up your parameters; here is a tutorial on how to do so.
True, the Forex copier has added significant value to the Forex market by giving retail traders the opportunity to build a successful trading business. Here are some of the advantages that the Forex copier provided to the Forex market:
You will save time since you will not have to sit for hours analyzing the market as expert traders do.
You don't have to worry about being at risk because all of your transactions are in place according to the expert trader's analysis.
The Forex trade copier assists you in expanding your investment portfolio without requiring you to research or analyze.
Because the whole procedure is automated, you may avoid using brokers and their brokerage fees to deal with your account.
It enables you to manage your finances efficiently in order to maximize profits while minimizing dangers.
It simplifies complex trade data and makes it available to you in easy-to-understand formats.
The trade copier software available on the market is simple to use, making it simple for a beginner trader to utilize and benefit from.
At the end of the day, we have come to the realization that a Forex copier is critical in the copy trading industry. Forex copiers such as TelegramFxCopier make it simpler for retail traders to start a Forex copy trading business without any prior experience.
That is to say, if you want to start a career as a copy trader, you must first discover the finest forex signal provider, which we have included in this article. Second, locate the finest Forex copier to automatically copy and execute your trades without your supervision, which we propose utilizing TelegramFxCopier.
Now that you have all the information you need to be a successful copy trader, all you have to do is…
TAKE ACTION.
Subscribe to our Newsletter
and get updated content from us
Please note that sending this form you give your agreement with our privacy policy