What Is a Forex Copier & How Does it Work?
Wondering what is a Forex copier and how it works? Stop the search, you have reached your destination.
Step into the captivating realm of Forex…
…the vast network where currencies dance in the hands of buyers and sellers at agreed prices. This global exchange facilitates seamless transactions for individuals, businesses, and central banks alike, transcending borders and fueling international travel. But how can you make money from it? Dive deeper into this dynamic world by exploring Forex copiers. Harness the power of Forex Telegram, and unlock the potential of Forex signals Telegram. Unleash the possibilities and master the art of currency trading.
In forex, practical transactions take a backseat as profit-making steals the spotlight.
With mind-boggling volumes exchanged daily, certain currencies embark on roller-coaster rides of price fluctuations. This wild dance of volatility is precisely what entices traders to dive headfirst into the world of Forex. Immense gains and lurking risks intertwine, painting a thrilling landscape of opportunity.
Embrace the thrilling world of Forex, renowned as one of the riskiest marketplaces. Yet, behold the marvels of technology's progress, for it has bestowed upon us the gift of accessibility through copy trading. Enter the realm of copy trading, where you can mirror the trades of skilled traders of your choice. Unlock the power of the Forex market, regardless of your expertise. Embark on a remarkable journey where retail traders can seize their slice of the Forex pie.
Unleash the true potential of copy trading with the ultimate tool: a Forex Copier.
What is a Forex Copier?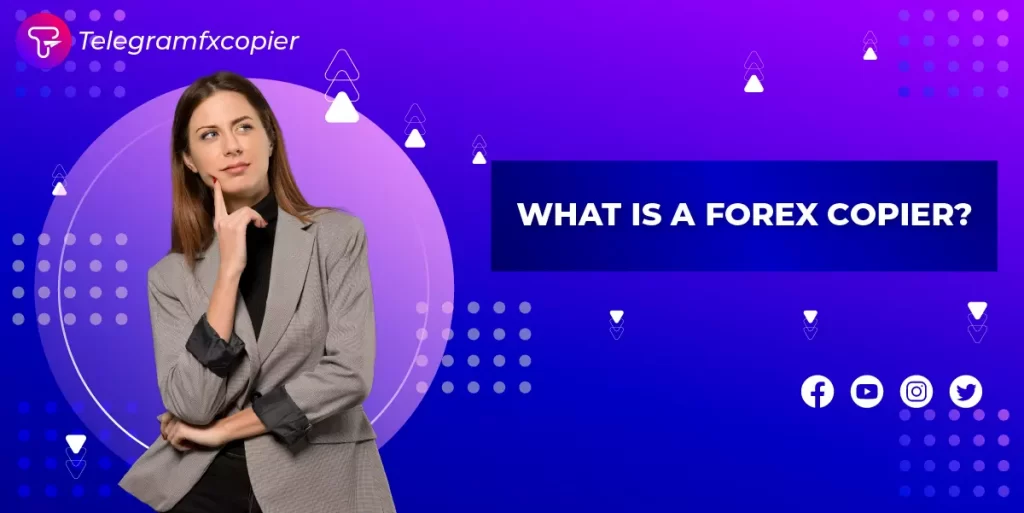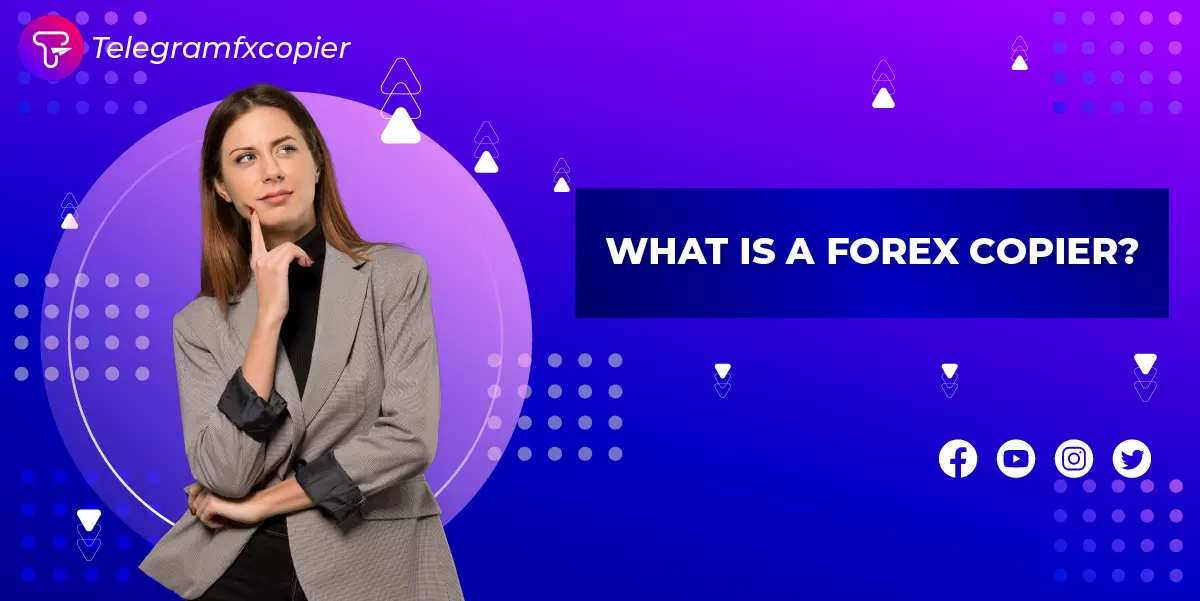 A Forex Copier is a remarkable invention. It's an ingenious piece of software enabling retail traders to effortlessly mirror transactions from signal providers to their MT4/5 accounts. Experience the simplicity and effectiveness of this cutting-edge solution, effortlessly copying trades from your chosen provider to your MetaTrader accounts. And that's not all – enjoy the added convenience of simultaneously opening identical transactions across multiple trading platforms. Let TelegramFXCopier revolutionize your trading experience.
Mirror trading replicates trader strategies, while Forex copiers copy and execute trades without replicating the strategy. With a Forex copier, all trading actions are taken by the provider. This includes opening positions and assigning stop loss orders.
When it comes to Forex copiers, one name stands above the rest: TelegramFxCopier.
If you're a seasoned Forex trader, chances are you're familiar with its reputation as the market's top choice. Powered by a set of intelligent algorithms, TelegramFxCopier automatically replicates trades from any Telegram channel to your MetaTrader account (MT4/5). Latency is very short–execution happens in milliseconds. Sit back, relax, and let TelegramFxCopier handle the trade execution while you witness the influx of profits. Watch your money grow effortlessly with TelegramFxCopier at your side. 
Experience a new era in Forex trading with TelegramFxCopier. It's groundbreaking platform that surpasses its competitors with a plethora of cutting-edge features. From lightning-fast execution and advanced image recognition to seamless multi-lingual support, TelegramFxCopier has revolutionized the Forex market. Let's explore the additional features that have propelled TelegramFxCopier to the pinnacle of the Forex copiers ranking.
Unlimited telegram channels
Unlimited trading signals
Advanced money & risk management
Advanced analytics
Video documentation
Help desk & Live chat support
How does Forex Copier Work?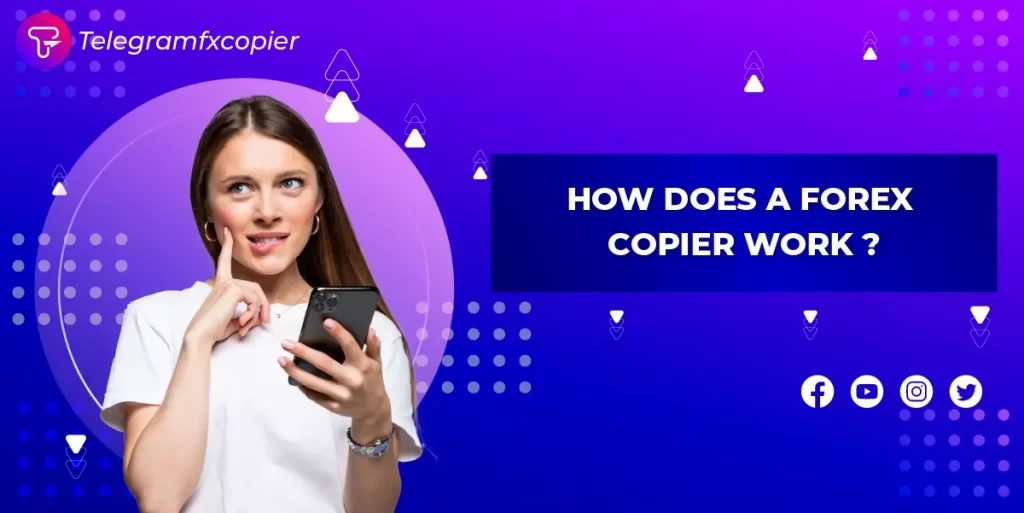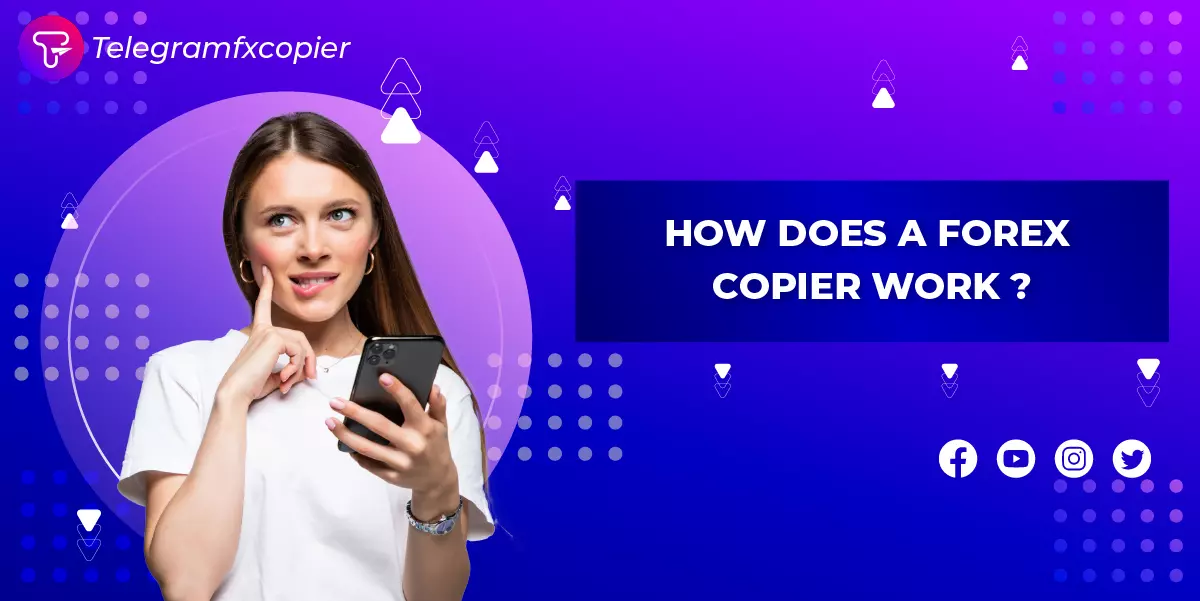 To describe how the Forex copier works, we will focus 100% on TelegramFxCopier as the standard. But first, let's address the challenge of selecting the perfect Forex signal provider. Fear not, as we've taken the time to curate a comprehensive list of the market's top 5 Forex signal services.
Unlock the power of automation with the Forex copier, seamlessly connecting Forex signal Telegram to Metatrader platforms. Say goodbye to the hassle of manual tracking, as the forex copy trader takes care of it all. Even if you're offline, immediate notification updates will keep you informed about your trades on your MT4 trading account. Experience the convenience and efficiency of the Forex copier. It frees you from the headache of constant monitoring, while staying connected to your trading journey.
Experience the seamless magic of Forex copiers, like TelegramFxCopier, enabling automatic trade replication from any Forex Telegram channel effortlessly. This innovative tool has revolutionized copy trading by automating 90% of the process. The remaining 10% involves setting up your desired parameters. We've got you covered with a step-by-step tutorial to simplify the process.
The Forex copier has revolutionized the Forex market, empowering retail traders to establish thriving trading businesses with remarkable success..
Here are some of the advantages that the Forex copier provided to the Forex market:
You will save time since you will not have to sit for hours analyzing the market as expert traders do.
Bid farewell to worries and risks–Every transaction you make is guided by an expert trader's analysis.
The Forex trade copier assists you in expanding your investment portfolio without requiring you to research or analyze.
Because the whole procedure is automated, you can avoid using brokers and their brokerage fees to deal with your account.
It enables you to manage your finances efficiently in order to maximize profits while minimizing dangers.
It simplifies complex trade data and makes it available to you in easy-to-understand formats.
The trade copier software we offer is designed with simplicity in mind. It enables novice traders to easily take advantage of its benefits.
In the realm of copy trading, the truth is undeniable: a Forex copier reigns supreme. Enter TelegramFxCopier, a game-changer that simplifies the journey for retail traders. It allows you to venture into the world of Forex copy trading, even without prior experience. Embrace the possibilities and seize control of your trading destiny with a Forex copier by your side.
Embark on a copy trading career with confidence by following two crucial steps. Firstly, explore this article to uncover the top-notch Forex signal providers we recommend. Second, unleash the power of automation by using TelegramFxCopier. Get ready to pave your path to success in the world of copy trading.
Subscribe to our Newsletter
and get updated content from us
Please note that sending this form you give your agreement with our privacy policy